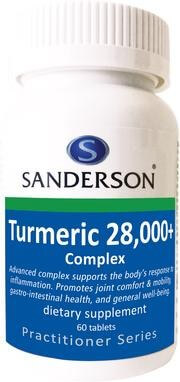 Tumeric 28000+ 60tabs
Turmeric is a spice that has traditional usage for health dating back nearly 4000 years, but it is commonly known for its use in Indian cuisine where it is primarily associated with curry. It has various names such as golden spice and Indian saffron (unrelated to crocus sativa, or true saffron). Turmeric is a product of Curcuma longa, a plant belonging to the ginger family. More than 100 component compounds have been isolated from Turmeric; possibly the most important is Curcumin - comprising several Curcuminoids – and which gives the spice its colour.


Turmeric has been widely studied across many health conditions. The Curcuminoids in Turmeric have been identified as supporting the maintenance of good health in major body systems including musculo-skeletal, immune, digestive, heart, brain and nervous system. Turmeric is most commonly used to support joint comfort and mobility, and as an effective digestive support.


Why choose Sanderson Turmeric 28,000+ complex
Sanderson Turmeric 28,000+ complex contains a high potency extract which provides 760mg of the active component Curcumin. This is combined with black pepper to improve absorption by up to 20 times. Sanderson have included Boswellia serrata and Ginger for extra digestive and joint mobility support. Aloe Vera is also included for its antioxidant and soothing effect as a support for digestion and joint comfort.
INGREDIENTS
Tumeric 35:1 extract 95% (herb equivalent 28,000mg) providing Curcuminoids 760mg
800mg
Boswellia serrata 5:1 extract (herb equivalent 250mg)
50mg
Ginger 20:1 extract (herb equivalent 500mg)
25mg
Aloe Vera gel freeze-dried powder
25mg
Black pepper 50:1 extract (herb equivalent 250mg)
5mg
SUPERIOR LOW ALLERGY FORMULATION:
This formulation is free from cereals containing gluten, fish, crustaceans, molluscs, milk, eggs, peanuts, nuts, soybeans, celery, mustard, sesame seeds, lupin, Sulphur dioxide and sulphites at levels above 10ppm, yeasts and corn. DOSAGE 1-2 tablets daily with food or as professionally prescribed. Always read the label and use as directed. If symptoms persist see your healthcare professional.