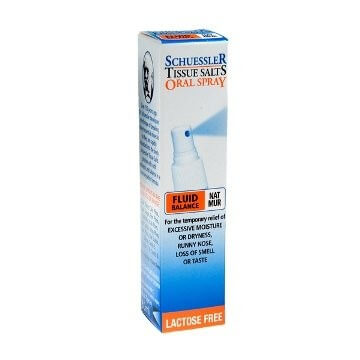 Schuessler Natrum Muriaticum (Cell Salt #9) 30ml Spray
The cell salt Natrum Muriaticum (Cell Salt #9) is prepared in the 6X potency. It is also known as Sodium Chloride. (Note: Nat Mur is Cell Salt #8 in Europe.) We offer Nat Mur as a dietary supplement in form of a liquid oral spray. The spray is lactose free, sugar free, gluten free, kosher, and vegan.
About Cell Salt Natrum Muriaticum & Dr. Schuessler's Biochemic Therapy
Natrum Muriaticum or Sodium Chloride is Cell Salt #9 in Dr. Schuessler's biochemic therapy. Nat Mur helps maintain proper water balance throughout the body. It is indicated whenever there is too much or too little water.

Natrum Muriaticum helps with constipation, headaches, sinus problems, colds with runny nose, sore throats, heartburn and slow digestion, drowsiness, as well as emotional issues such as low spirits and hopelessness.*
Adults: Spray 2 to 3 squirts underneath your tongue 3 times a day or as needed.
Children 12 and under: Use 1 spray 3 times a day or as needed. Also consider squirting the spray in a small glass with a few tablespoons of water and sipping it slowly. Or consider putting the spray on your child's wrist (inside of wrist) and rubbing it in gently.
80% distilled water (steamed), 20% pure corn alcohol (organic, kosher)
Sugar free, lactose free, gluten free, kosher, parve, vegan
If symptoms persist, come into the health shop for a chat or phone and make an appointment and see me as a naturopath in my clinic.
Phone: 094264455