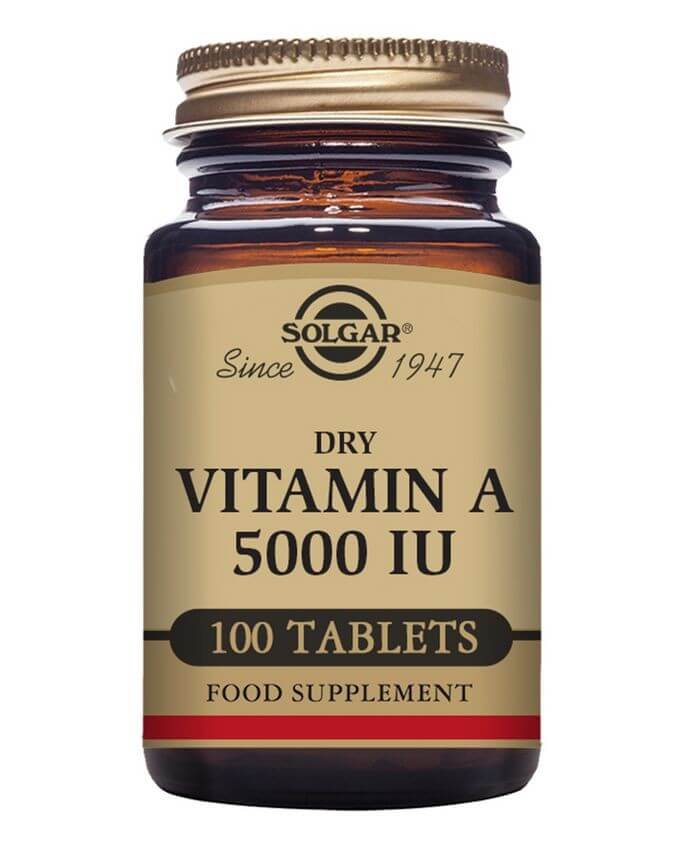 Dry Vitamin A 5000 IU 100 tablets
Dry Vitamin A 5000 IU Tablets contributes to healthy skin, supports the function of the immune system and iron metabolism as well as maintaining eye health.
A must-have for any vegan or vegetarian diet, Solgar's Dry Vitamin A 5000 IU Tablets provides 5000 IU of vitamin A - 100% of the Nutrient Reference Value. This formula features vitamin A in the form of retinyl palmitate, an irritation-free form of retinol that is gentle on the intestines.
How to use As a food supplement for adults, take 1-2 tablet daily, preferably at mealtime or as directed by a medical practitioner. Do not exceed instructions for use.
Full ingredients list Bulking Agents: (dicalcium phosphate, microcrystalline cellulose, sucrose, gum arabic, corn starch), Vitamin C (as L-Ascorbic acid), Anti-caking Agents: (vegetable magnesium stearate, silicon dioxide), Cellulose Gum, Vitamin A (5000 IU, as retinyl palmitate).
Description Formulated for vegans and vegetarians, these kosher, gluten and dairy-free
If symptoms persist, come into the health shop for a chat or phone and make an appointment and see me as a naturopath in my clinic.
Phone: 094264455