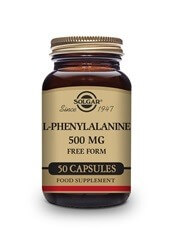 L-Phenylalanine 500 mg 50 vcaps
An essential amino acid
Precursor to Tyrosine is used to make dopamine and adrenaline
Important for producing neurotransmitters
One of Solgar's premium-quality amino acid range
Vegan, Vegetarian, Kosher
1/day
Dairy Free, Gluten Free, Kosher, Vegan, Vegetarian
Solgar
®
L-Phenylalanine 500 mg Vegetable Capsules is one of Solgar's premium-quality amino acid range products, containing L- Phenylalanine, an essential amino acid which functions as the precursor to Tyrosine.
Amino acids are the building blocks of protein and are needed in several internal functions of the body. They are classified as "essential" or "non-essential", with essential amino acids meaning they cannot be manufactured by the body and must be supplied in the diet to maintain good all-round health. Amino acids can be further used by the body to create hormones, enzymes, neurotransmitters, antibodies and nutrient carriers. A suboptimal intake of the essential amino acids increases the body's need for the non-essential amino acids either through diet or supplementation. Foods that increase amino acid intake are meat, beans, cheese and eggs.
L-Phenyalanine is the precursor to Tyrosine, which is used the create hormones such as epinephrine, norepinephrine, DOPA and dopamine.
Solgar
®
500 mg L-Phenylalanine comes in an aesy to take vegetable capsule, once daily.L-Phenylalanine (Free Form), Vegetable Capsule Shell: hydroxypropylmethyl cellulose, Anti-caking Agent: vegetable magnesium stearate.
If symptoms persist, come into the health shop for a chat or phone and make an appointment and see me as a naturopath in my clinic.
Phone: 094264455