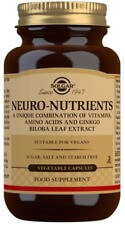 Neuro Nutrients 30 Vcaps
Suitable for Vegans, Suitable for Vegetarians, Unique combination of Vitamins, Amino Acids, and Ginkgo Biloba Leaf Extract, Provides nutrients for healthy brain function, Easy absorbable vegetable capsules, Free from sugar, salt and starch, Dairy Free, Gluten Free, Wheat Free, Yeast Free
| | | |
| --- | --- | --- |
| Nutrient per 1 Capsule | Claim | RDA [%] |
| | | |
| L-Phenylalanine (free-form) | 167 mg | N/A |
| L-Tyrosine (free-form) | 167 mg | N/A |
| L-Glutamine (free-form) | 167 mg | N/A |
| Vitamin C (as calcium L-ascorbate) | 100 mg | 125 |
| Vegetable Capsule Shell: hydroxypropylmethyl cellulose | N/A | N/A |
| Choline (as bitartrate) | 41 mg | N/A |
| Soya Lecithin (containing naturally occurring phospholipids) | 33 mg | N/A |
| Anti-caking Agent: vegetable magnesium stearate | N/A | N/A |
| Thiamin (vitamin B1, as thiamine mononitrate) | 5 mg | 455 |
| Standardised Ginkgo biloba Leaf Powdered Extract (minimum 1.68 mg [24%] ginkgo flavoglycosides) | 7 mg | N/A |
Ingredient List:
L-Phenylalanine (Free Form) 167 mg, L-Tyrosine (Free Form) 167 mg, L-Glutamine (Free Form) 167 mg, Vitamin C (as calcium L-ascorbate) 100 mg, hydroxypropylmethyl cellulose, Choline (as bitartrate) 41 mg, Soya Lecithin (containing naturally occurring phospholipids) 33 mg, vegetable magnesium stearate, Thiamin (vitamin B1, as thiamin mononitrate) 5 mg, Standardised Ginkgo biloba Leaf Powdered Extract (minimum 1.68 mg [24%] ginkgo flavonglycosides) 7 mg, Niacin (vitamin B3, as nicotinamide, nicotinic acid) 5 mg NE, Riboflavin (vitamin B2) 5 mg, Vitamin B6 (as pyridoxal-5'-phosphate) 2.5 mg
Product Use:
As a food supplement for adults, one (1) to two (2) vegetable capsules daily, preferably between meals, or as directed by a healthcare practitioner
Cautions:
If you are pregnant, nursing, taking any medications or have any medical condition, please consult your healthcare practitioner before taking this product. CAUTION: PHENYLKETONURICS (PKU) This product contains L-phenylalanine.
Neuro-Nutrients is recommended for anyone with nervous system depletion, stress related exhaustion, mental fatigue and low mood. This unique formula combines the key nervous system amino acids L-Tyrosine, L-Phenylalanine and L-Glutamine with important vitamin and herbal cofactors for optimal effectiveness.
Not suitable during pregnancy or breastfeeding unless under advice of a healthcare professional.  Not suitable for those with schizophrenia, phenylketonuria or melanoma.  Caution with high blood pressure, hyperthyroidism, MAOI antidepressants & L-Dopa.