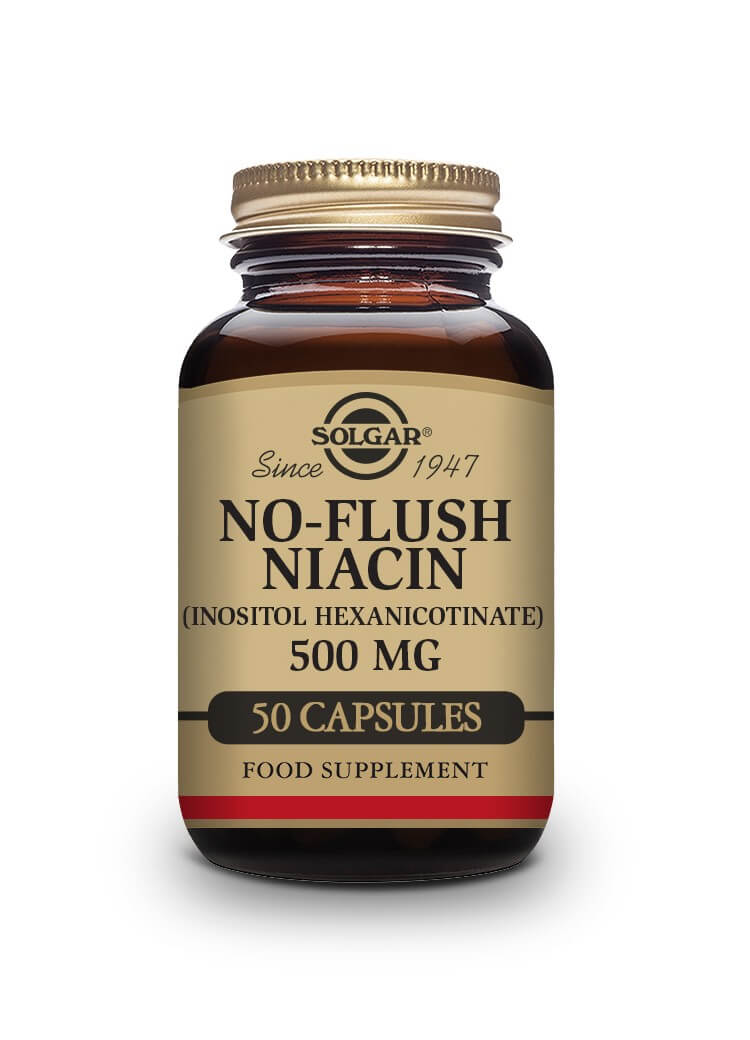 No Flush Niacin 500 mg 50Vcaps
Source of Vitamin B3 (Niacin)
Supports energy levels
Reduces tiredness and fatigue
Skin health
Vegan, Vegetarian, Kosher
1-2/day
Dairy Free, Gluten Free, Kosher, Vegan, Vegetarian
Solgar
®
No Flush Niacin 500 mg Vegetable Capsules contain the essential Vitamin B3, Niacin, which is one of the 8 B Vitamins and plays an important role in energy levels, assisting the metabolism and reducing tiredness and fatigue.
Vitamin B3 is an essential water-soluble vitamin which can be found in many foods such as meat, tuna, seeds and mushrooms. This specific vitamin supports the body with several processes, ranging from managing energy levels, to skin health and a balanced mind.
When eating foods rich in Niacin, the chances of side effect are very slim. However, they might arise when taking high dose supplements as the amount of the vitamin will be higher than when consumed through food. Regular high dose products containing Niacin often have the side effect of flushing. Solgar's special complexed form of Niacin does not come with this side effect.
Solgar
®
No Flush Niacin 500 mg is to be taken as 1-2 a day and comes in vegetable capsule form, making it easy to absorb. This special no flush formula with Vitamin B3 contributes to:
• Normal energy-yielding metabolism
• Normal functioning of the nervous system
• Normal psychological function
• Maintenance of normal mucous membranes
• Maintenance of normal skin
• Reduction of tiredness and fatigue
Inositol Hexanicotinate (providing Niacin (vitamin B3), Inositol), Vegetable Capsule Shell: hydroxypropylmethyl cellulose, Anti-caking Agents: (silicon dioxide, vegetable magnesium stearate).
If symptoms persist, come into the health shop for a chat or phone and make an appointment and see me as a naturopath in my clinic.
Phone: 094264455