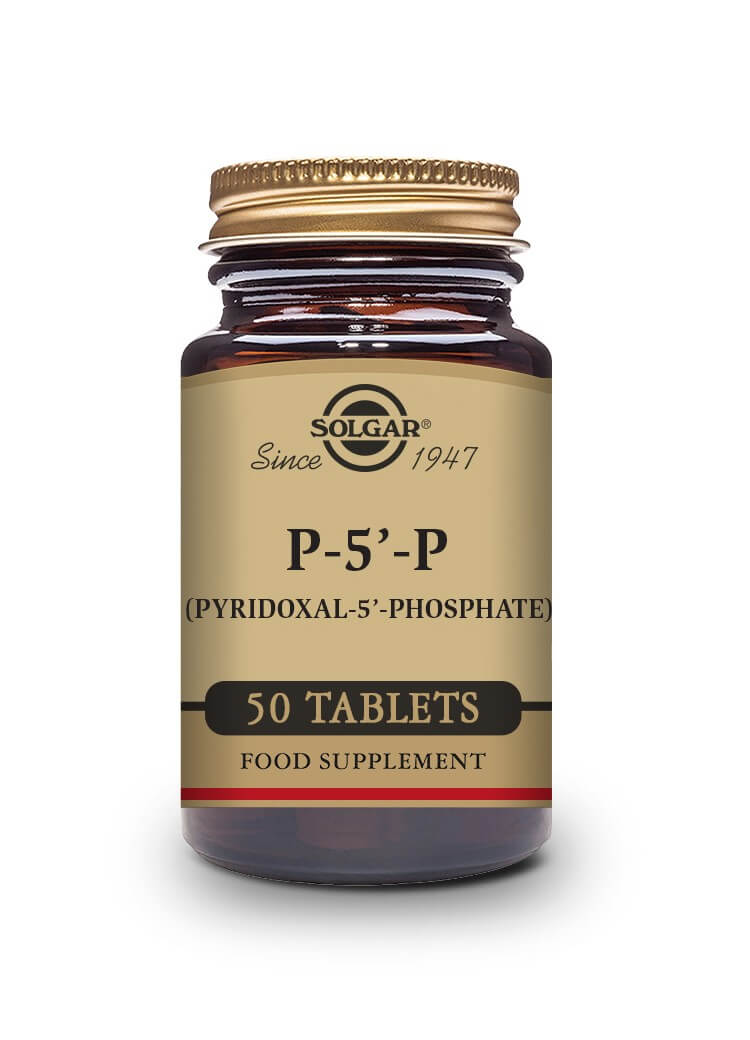 P-5'-P 50 tabs active form of Vitamin B6
Active form of Vitamin B6
Vegan, Vegetarian, Kosher
1-2/day
Dairy Free, Gluten Free, Kosher, Vegan, Vegetarian
Solgar
®
P-5'-P contains Pyridoxal-5'-Phosphate, a metabolite of Vitamin B6.
Vitamin B6 plays an important role in several biological functions, ranging from contributing to metabolism through to supporting the psychological function and immune system. It is specifically known for its qualities of regulating hormones and formation of healthy red blood cells. Most people will be able to reach the recommended levels of Vitamin B through their diet, as this essential vitamin can be found in a wide variety of foods such as poultry, fish, seeds, beans and wholegrains. However, cooking, freezing, storing and processing foods can destroy up to 50% of the Vitamin B6 content. The special active form of Vitamin B6 in this formula, P-5'-P, is readily available to the body making sure that you will receive all the benefits of this important vitamin.
Solgar
®
P-5'-P is to be taken as 1 tablet a day, giving you a potent dose of this active form of Vitamin B6 so your body can readily use it.
Bulking Agents: (dicalcium phosphate, microcrystalline cellulose), Glazing Agents: (methacrylic acid,
hydroxypropylmethyl cellulose, glycerol triacetate, vegetable glycerine (from palm kernel oil and coconut oil)), Pyridoxal-5'-Phosphate, Colours (riboflavin, titanium dioxide), Anti-caking Agent: vegetable magnesium stearate, Cellulose Gum.

If symptoms persist, come into the health shop for a chat or phone and make an appointment and see me as a naturopath in my clinic.
Phone: 094264455