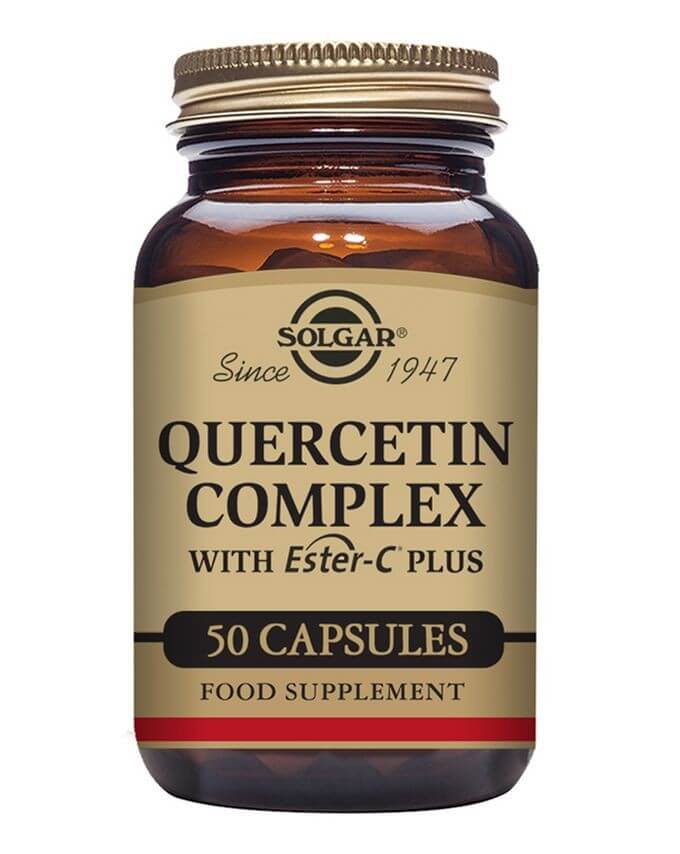 Quercetin complex 50 Vcaps
Description
Providing strong protection against oxidative stress, these capsules help to support your immune system by melding the wellness-boosting qualities of Solgar's patented vitamin C complex with quercetin (an essential bioflavonoid) and bromelain (a protein-digesting enzyme).
But what does all that mean, you may ask? First up, bioflavonoids are a class of potent phytochemicals that occur naturally in fruit, vegetables and herbs and quercetin is a non-citrus bioflavonoid that helps to maximise the benefits vitamin C. In these capsules, Solgar's unique quercetin complex is powered by plant bioflavonoids and powerful antioxidants. The brand's patented vitamin C complex – Ester C – also makes an appearance, helping to fight free radicals and maintain a healthy immune system, while supporting healthy bones and easing the feeling of fatigue. Finally, bromelain – a digestive enzyme found naturally in pineapples – works to support the normal function of the body's systems.

How to use
Take two tablets daily, preferably with a meal.
If you are pregnant, nursing, taking medication or have any medical condition, please consult your medical practitioner before taking this supplement.
Full ingredients list Vitamin C (As Ester-C ®, Calcium-L-Ascorbate), Quercetin (Sophorae Japonica), Vegetable Capsule Shell: Hydroxypropylmethyl Cellulose, Bulking Agent: Maltodextrin, Citrus Bioflavonoid Complex, Rose Hips Powder, Acerola Powdered Extract (11:1), Anti-Caking Agents: Vegetable Magnesium Stearate, Silicon Dioxide, Rutin Powder, Bromelain.
If symptoms persist, come into the health shop for a chat or phone and make an appointment and see me as a naturopath in my clinic.
Phone: 094264455