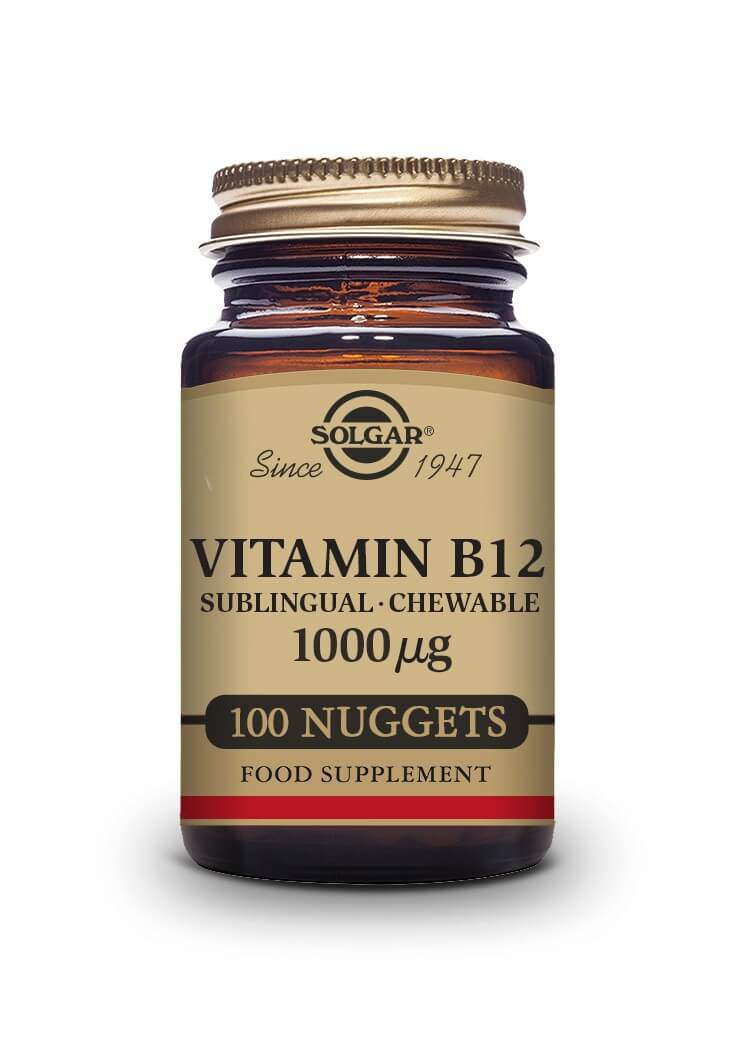 Vitamin B12 Sublingual - Chewable 1000 µg 100 Nuggets
High strength 1000 μg
Available in a convenient, easy to take, nugget dosage form
Vitamin B12 is an essential vitamin and has several health benefits
Vegan, Vegetarian, Kosher, Halal
Free from sugar, salt and starch
1/day
Dairy Free, Gluten Free, Halal, Kosher, Vegan, Vegetarian
Solgar
®
Vitamin B12 Sublingual - Chewable 1000 µgNuggets contain a 1000 μg of the cyanocobalamin form of Vitamin B12. It plays a number of different roles in the body such as reducing tiredness, assisting in the release of energy from foods and supporting your vitality.
Presented as sublingual nuggets (that melt under the tongue), this product is a convenient, easy to take version of this versatile nutrient, particularly important for those with a restrictive diet (such as vegan). Beyond energy Vitamin B12 has several health benefits supporting general vitality and wellbeing.
Solgar
®
Vitamin B12 delivers 1000 μg in just one nugget daily, promoting the health of the nervous system and healthy blood cell formation, and support energy metabolism. Vitamin B12 is naturally found in fish, dairy produce, organ meats, beef, pork, fortified foods and is a water-soluble vitamin. Vitamin B12 is necessary to maintain energy and general vitality and has numerous health benefits. Solgar's Nuggets are taken sublingually (dissolved under the tongue), which means the B12 bypasses the stomach and is absorbed directly into the blood.
Vitamin B12 supports energy metabolism and contributes to:
• Energy-yielding metabolism
• Normal functioning of the nervous system
• Normal homocysteine metabolism
• Normal psychological function
• Normal red blood cell formation
• Normal function of the immune system
• The process of cell division
Bulking Agents: (mannitol, maltodextrin, gum arabic), Anti-caking Agents: (vegetable stearic acid, vegetable magnesium stearate), Cross Linked Cellulose Gum, Flavour: Natural Cherry, Vitamin B12 (as cyanocobalamin).
If symptoms persist, come into the health shop for a chat or phone and make an appointment and see me as a naturopath in my clinic.
Phone: 094264455