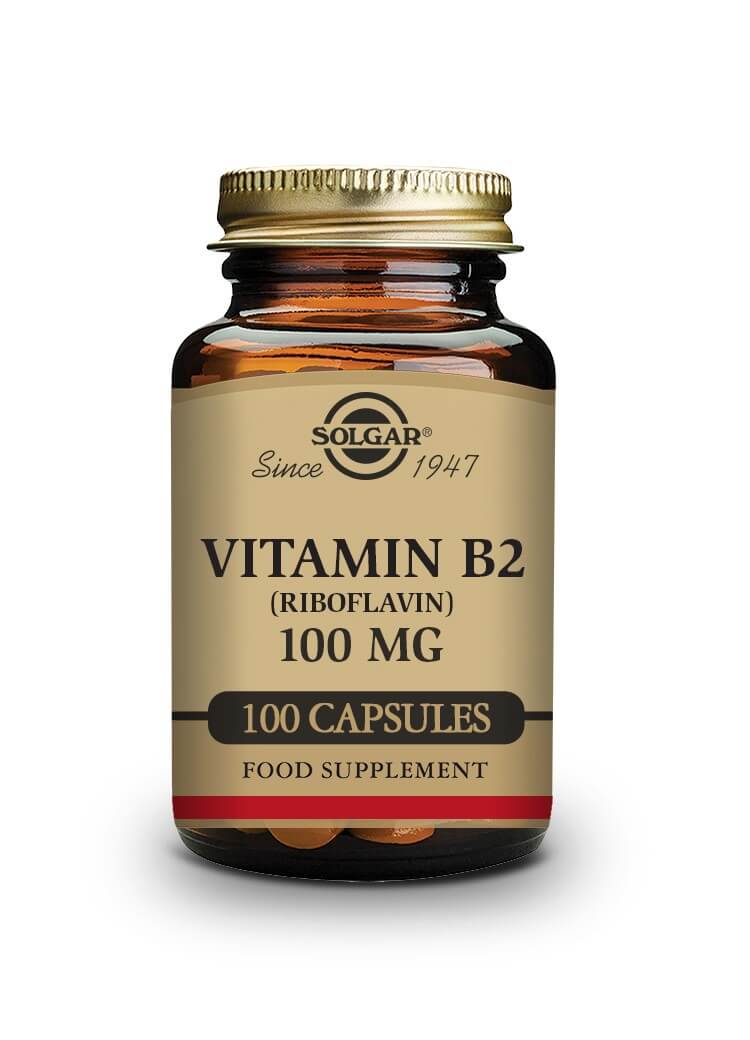 Vitamin B2 100 mg 100 Vcaps
Supports energy levels
Reduces tiredness and fatigue
For healthy skin and eyes
Supports muscle and nervous system function
Prevents free radical damage and oxidative stress
1/day
Dairy Free, Gluten Free, Halal, Kosher, Vegan, Vegetarian
Solgar
®
Vitamin B2 100 mg Vegetable Capsules contains Vitamin B2, also known as Riboflavin, which is one of the 8 B vitamins. It is an important vitamin and acts as a coenzyme, which supports energy production. It is also responsible for several processes in the human body, ranging from supporting energy levels to healthy skin and eyes.
Vitamin B2 is a water-soluble vitamin and must be obtained through a healthy diet. Vitamin B2 can be found in foods such as meat, eggs, green leafy vegetables and nuts. Together with the other B Vitamins, Vitamin B2 is used to extract energy from the foods we eat.
Alongside benefits for our metabolism, Vitamin B2 can help reduce tiredness and fatigue, as well as protect cells from oxidative stress and damage by free radicals. Free radicals are unstable molecules that can damage the cells in your body and are associated with premature aging.
Solgar
®
Vitamin B2 100 mg Vegetable Capsules has an easy 1 capsule a day dose and will deliver 100 mg of this essential vitamin, contributing to:
• Normal energy-yielding metabolism
• Normal functioning of the nervous system
• Maintenance of normal mucous membranes
• Maintenance of normal red blood cells
• Maintenance of normal skin
• Maintenance of normal vision
• Normal metabolism of iron
• Protection of cells from oxidative stress
• Reduction of tiredness and fatigue
Riboflavin (vitamin B2), Vegetable Capsule Shell: hydroxypropylmethyl cellulose), Anti-caking Agents: (vegetable magnesium stearate, silicon dioxide), Bulking Agent: microcrystalline cellulose.