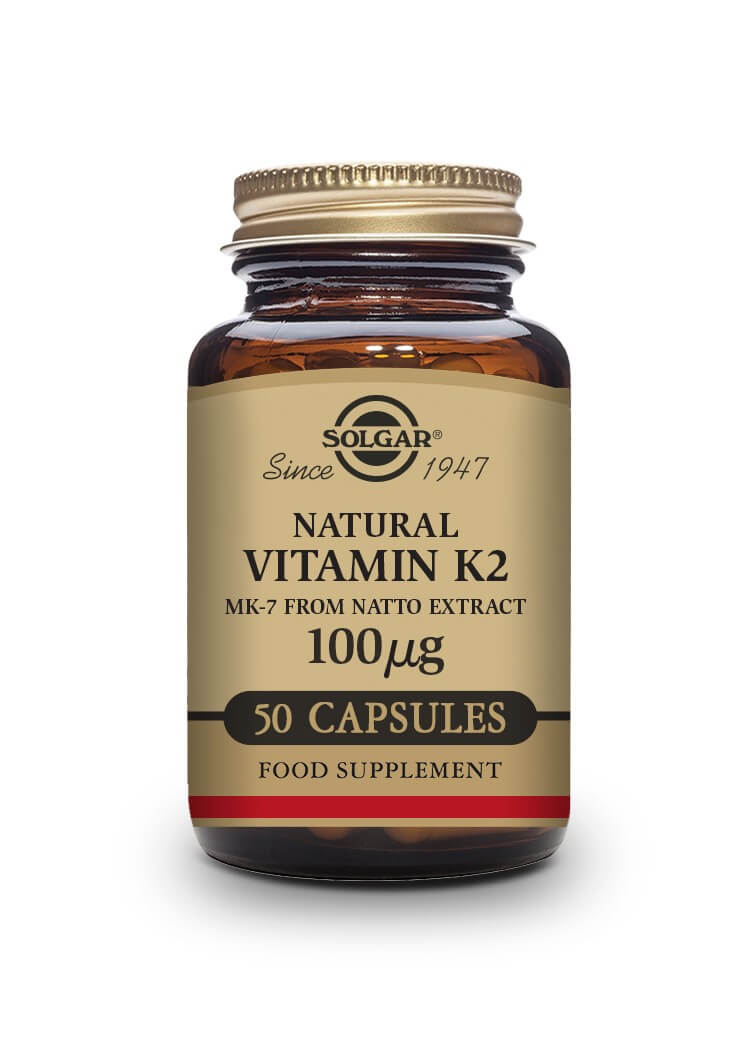 Vitamin K2 (MK-7) 100 µ 50Vcaps
Supports optimal calcium distribution to the bones
Helps keeps your bones healthy
Unique patented version of Vitamin K, Menaquinone-7
Derived from natto, a traditional Japanese fermented food
Free of sugar, salt, and starch
1/day
Vegetarian, Vegan, Gluten Free, Dairy Free
Solgar
®
Natural Vitamin K2 (MK-7) 100 µ Vegetable Capsules utilises the highly bioavailable natural form of Vitamin K, Menaquinone-7. Long known to play an important role in bone building and blood clotting. This unique vitamin K is derived from natto, a traditional Japanese fermented food, known to be rich in vitamin K and with a long history as a superfood.
A group of experts in Europe recently recommended that supplementation of any type of vitamin K should not exceed 100 µgdaily, as this amount is not likely to interact with blood-thinning medications.
• Supports optimal calcium distribution to the bones
• Unique patented version of Vitamin K2, Menaquinone-7, the type of vitamin K2 manufactured by the gut microflora and known to have significantly higher bioactivity than K1
Bulking Agents: (dicalcium phosphate, dextrin, maltodextrin), Vegetable Capsule Shell: hydroxypropylmethyl cellulose, Anti-caking Agents: (vegetable magnesium stearate, silicon dioxide), Cellulose Gum, Vitamin K2 (as menaquinone-7).
If symptoms persist, come into the health shop for a chat or phone and make an appointment and see me as a naturopath in my clinic.
Phone: 094264455