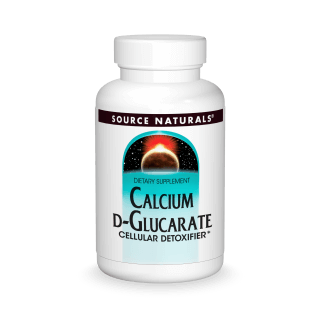 Calcium-D Glucarate 30 tabs
Calcium D-Glucarate Cellular Detoxifier
CALCIUM D-GLUCARATE
includes the patented compound glucarate which has been shown in animal studies to support major detoxification pathways in the body. Calcium d-glucarate, the calcium salt of d-glucaric acid, is found naturally in the human body and in a variety of fruits and vegetables. Animal studies have shown that high doses of calcium d-glucarate may modulate
beta
-glucuronidase, and thereby support the process of glucuronidation. Glucuronidation is one of the body's healthy processes in which foreign organic compounds, fat-soluble toxins and excess steroid hormones such as estrogen are detoxified and excreted.
Suggested Use: 2 tablets with a meal three times daily. Additional benefits may be obtained by taking this product with antioxidants such as vitamins A, C, E and
beta
-carotene.
Warning: For adult use only. Calcium D-glucarate may increase the body's excretion of certain medications. If you are pregnant, may become pregnant, breastfeeding, or taking any prescription drug, consult your health care professional before using this product.
Do not use if either tamper-evident seal is broken or missing. Keep out of the reach of children.

If symptoms persist, come into the health shop for a chat or phone and make an appointment and see me as a naturopath in my clinic.
Phone: 094264455