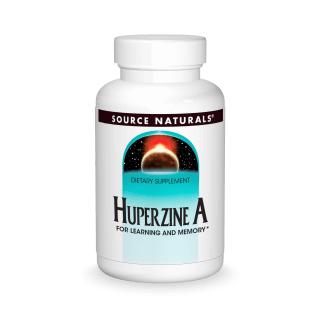 Huperazine A 200mcg 60 tabs
Huperzine A is a natural compound extracted from the Chinese club moss Huperzia serrata. Worldwide studies have shown that Huperzine A supports learning and memory by protecting acetylcholine, a neurotransmitter that acts as a messenger molecule in the brain. Huperzine A may be used for both short-term "brain boost" needs, such as preparing for a test, as well as more long-term needs, such as reducing the mild memory loss associated with normal aging.

Suggested Use: 1 tablet 1 to 2 times daily.
Allergies: Suitable for vegetarians. Contains no yeast, dairy, egg, gluten, corn, soy or wheat. Contains no sugar, starch, salt, preservative, or artificial colour, flavour or fragrance.

Other Ingredients: microcrystalline cellulose, and stearic acid.
Warning: For adult use only. Do not use this product if you are pregnant, may become pregnant, or are breastfeeding. Consult with your physician prior to use if you have high blood pressure or heart problems or are currently taking any prescription drugs including anticholinergic drugs, acetylcholinesterase inhibitors, or cholinergic drugs. Discontinue use or reduce dosage and consult your physician if the following symptoms develop: nausea, vomiting, diarrhoea, incontinence, or muscle twitches. Do not exceed recommended intake.
Do not use if either tamper-evident seal is broken or missing. Keep out of the reach of children.
Store in a cool, dry place.