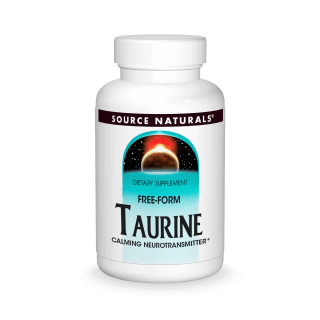 Taurine 60 tabs
Taurine: Calming Neurotransmitter.
Taurine is a crystalline, free-form amino acid. It is a soothing, inhibitory neurotransmitter and plays a major role in stabilizing the heartbeat and electrical activity of the nerves.
Taurine is also necessary for the proper functioning of the "sodium/potassium ATP-ase pump", which regulates the ion balance between the cells and the extracellular fluid that surrounds them. This critically important "pump" actually uses 7% to 40% of the ATP energy our bodies produce.
Suggested Use: 1 tablet daily.
Allergies: Contains no yeast, dairy, egg, gluten, soy or wheat. Contains no sugar, starch, preservatives, or artificial colour, flavour or fragrance.
Other Ingredients: sorbitol, stearic acid, silica, modified cellulose gum, and magnesium stearate.
Warning: If you are pregnant, may become pregnant, or breastfeeding, consult your health care professional before using this product.
Do not use if either tamper-evident seal is broken or missing. Keep out of the reach of children.