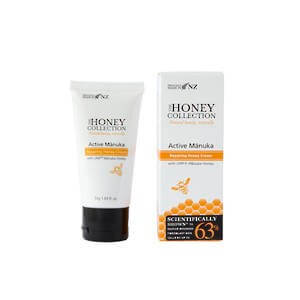 Active Manuka Repairing Honey Cream 50g

Description
Designed to help rescue your troubled skin from sore, itchy, inflamed or irritated conditions, Active Mānuka's protective formula is bursting with over 30% UMF™ 15+ Mānuka honey. Blended with a plethora of nourishing botanicals such as Calendula and Chamomile, this multi-purpose salve is rich in essential nutrients that work in harmony with you, helping to address troublesome skin woes and minimise the occurrence of scarring
How To Use
Generously apply to troubled skin and surrounding area. Reapply frequently. Perfect for the entire family, including babies.
Skin Concerns
Most topical irritations- infections, ulcers, burns, wounds, abrasions & rashes, including nappy rash
Key Ingredients
:
UMF™ 15+ Mānuka Honey
Calendula Oil
Chamomile Extract
A natural antiseptic, New Zealand Mānuka honey contains minerals, vitamins and enzymes to aid healing. It creates an optimum healing environment, drawing out infections and creating a protective barrier
A common herbal oil remedy for treating skin conditions, Calendula oil is gentle and soothing. Deep red in colour, it has wonderful anti-inflammatory, antimicrobial, astringent and anti-fungal which makes it very useful for a broad range of irritations.
 
Chamomile is a gentle, calming and soothing herb - when used topically it is said to have a calming and soothing effect thanks to its powerful anti-inflammatory, anti-fungal, antibacterial and antiseptic properties.