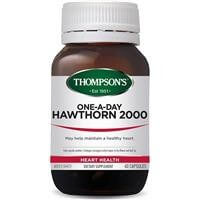 Thompson's Hawthorn 2000 One-a-Day Capsules 30
Thompson's Hawthorn 2000 One-a-Day Capsules 30
 Cardiovascular system supportTraditional use in Western Herbal medicine as a heart tonicConvenient One-A-Day dose 
Benefits:
- 
Helps to support the health and function of the cardiovascular system- Supports healthy heart muscle function- Helps to augment exercise tolerance by maintaining healthy heart level rates- Supports the maintenance of healthy blood pressure in healthy individuals- Helps to support the integrity of the walls of the blood vessels and may assist normal blood flow- Aids to safeguard the body against damage from free radicals 
Suitable for:- 
Those who are prone to shortness of breath and fatigue during exercise- Individuals who seek a daily supplement to support and maintain healthy heart function- Those looking for a supplement to promote exercise tolerance 
Active Ingredients:Each Capsule contains: Crataegus monogyna (hawthorn) extract equivalent to dry flower and leaf 2 g- Standardised to Vitexin-2-rhamnoside 6.53 mg
Dosage:Adults – Take one capsule daily (with food), or as professionally advised. 
Warnings:
Use only as directed and always read the label
If symptoms persist, consult your healthcare professional
Store below 30°C in a dry place.
Keep out of reach of children.