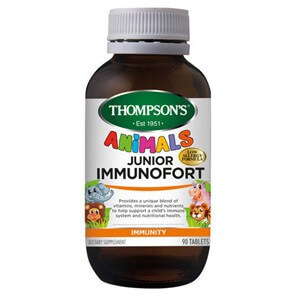 Thompson's Junior Immunofort Animals Tablets 45
Thompson's Junior Immunofort Animals Tablets 45
A unique blend of vitamins, minerals and nutrients to help support children's immune systemsLow allergy formulaGreat tasting animal-shaped chewable tabletNatural flavour 
Benefits:
- Vitamins include vitamins B, C, D, E to support healthy immune function- Minerals include calcium, magnesium, zinc, iron to support immune function, growth and development- Superfoods include spirulina, broccoli, fruit and wholefood concentrates for fussy eaters and to support a healthy immune system- Antioxidants inlcude vitamin C, E, zinc and betacarotene- Nutrients include amino acids, lemon bioflavonoids for added immune support 
Suitable for:
- Children suffering the symptoms of winter ills and chills- Children requiring immune system support- Fussy eaters
Active Ingredients:
Each Tablet Contains:
 Beta Carotene (1.5mg) 2500 IU
Iron (as Amino Acid complex) 2.5 mg
Vitamin B1 750 mcg
Iodine (from Kelp) 50 mcg
Vitamin B2 850 mcg
Magnesium (as Amino Acid complex) 5 mg
Vitamin B3 (Niacinamide) 10 mg
Manganese (as Amino Acid complex) 25 mcg
Vitamin B5 (Pantothenic Acid) 5 mg
Potassium (as Amino Acid complex) 500 mcg
Vitamin B6 1 mg
Zinc (as Amino Acid complex) 1.5 mg
Vitamin B12 3 mcg
Folic Acid 5 mcg
Biotin 25 mcg
Choline 5 mcg
Inositol 5 mcg
Para-amino Benzoic Acid 200 mcg
Vitamin C 30 mg
Lemon Bioflavonoids 10 mg
Vitamin D (5mcg) 200IU
Vitamin E (Natural, 10mg) 15 IU
Calcium (as Amino Acid complex) 10 mg
Copper (as Amino Acid complex) 25 mcg
Fruit Concentrates:
- Pineapple Powder- Apple Powder- Papaya Powder- West Indian Cherry- Mango
Whole Food Concentrates:
- Kelp
- Spirulina - Carrot Powder- Broccoli Powder- Brown Rice- Rice Bran- Beet Greens- Rose Hips- Sunflower Oil- Spinach No Added Corn, dairy, egg, gluten, lactose, nuts, peanuts, shellfish, soy, fish, sugar, sesame seed, artificial colouring, flavoring and preservatives. Vegan and vegetarian friendly. 
Dosage:Children 2-5 years old: one tablet daily.Children 6 and over: 1-2 tablets daily. 
Warnings:
Use only as directed and always read the label
If symptoms persist, consult your healthcare professional
Store below 30°C in a dry place.
Keep out of reach of children