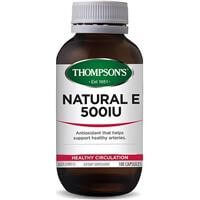 Thompson's Natural E 500IU Capsules  30caps
Thompson's Natural E 500IU Capsules
30caps antioxidant formula containing Vitamin E and seleniumFormulated to contain both d-alpha tocopherols and mixed tocopherolsVitamin E is derived from a natural source 
Benefits
- Vitamin E helps protect LDL cholesterol against oxidation damage- Assists to support healthy blood circulation and blood vessels- Assists to protect cells from oxidative damage- Helps to protect the body against the damaging effects of free radicals 
Suitable for
- Individuals who seek a daily antioxidant supplement to support the health of blood vessels- Individuals who seek a daily antioxidant supplement to maintain the health of blood circulation- Individuals who suffer from or prone to the damaging effects of free radicals
Active Ingredients:d-alpha-tocopherol 325 mg - equiv. natural Vitamin E 484 IU
Mixed Tocopherols 110 mg - equiv. natural Vitamin E 16 IU
Selenomethionine 64.5 mcg - equiv. Selenium 26 mcg No Added Gluten, lactose, dairy, egg, nuts, shell fish, sugar, fish, sesame seed, artificial colouring and flavourings. Suitable for Vegetarian and Vegan use. 
Dosage:Adults – Take one capsule a day (with food), or as professionally advised. 
Warnings:
Use only as directed and always read the label
Vitamin supplements should not replace a balanced diet
Store below 30°C in a dry place.
Keep out of reach of children.