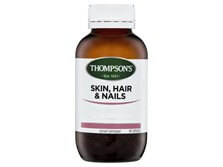 Thompson's Skin, Hair & Nails Capsules 45
Thompson's Skin, Hair & Nails Capsules
45
Vitamin, mineral, herbal and marine protein complexFormulated to help maintain healthy skin, hair and nailsContains nutrients to support the formation collagen. 
Benefits
- Supports healthy skin, hair, and nails- Supports the healthy formation of connective tissue such as collagen which is important for the structural integrityof skin, hair, and nails- Helps to protect the the body's cells against free radical damage 
Suitable for- 
Individuals with or prone to brittle nails- Individuals who seek a daily supplement to maintain or improve the health of skin, hair, and nails   Active Ingredients:Retinyl palmitate 1.37 mg
- equiv. Retinol 750 RE/mcg
- equiv. Vitamin A 2500 IU
Calcium pantothenate 10 mg
- equiv. Pantothenic acid (vitamin B5) 9.17 mg
Pyridoxine hydrochloride 10 mg
- equiv. Pyridoxine (vitamin B6) 8.23 mg
Biotin 1.25 mg
Ascorbic acid (vitamin C) 30 mg
Cholecalciferol (vitamin D3) 10 mcg
- equiv. Vitamin D3 400 IU
d-alpha Tocopherol 20.1 mg
- equiv. Natural Vitamin E 30 IU
Zinc amino acid chelate 37.5 mg
- equiv. Zinc 7.5 mg
Selenomethionine 124 mcg
- equiv. Selenium 50 mcg
Silica – colloidal anhydrous 30 mg
Fish oil – natural 100 mg
- equiv. Eicosapentaenoic acid (EPA) 18 mg
- equiv. Docosahexaenoic acid (DHA) 12 mg
Demineralised fish proteoglycan extract 125 mg
Evening primrose oil 200 mg
- equiv. Gamma-linolenic acid (GLA) 20 mg No Added Corn, egg, gluten, lactose, nuts, shellfish, sugar, dairy, sesame seed, artificial flavouring. 
Dosage:Adults – Take one or two capsules daily (with food), or as professionally advised 
Warnings:
If you are pregnant, or considering becoming pregnant, do not take vitamin A supplements without consulting your healthcare professional
Use only as directed and always read the label
Vitamin supplements should not replace a balanced diet
If symptoms persist, consult your healthcare professional
Store below 30°C in a dry place
Keep out of reach of children