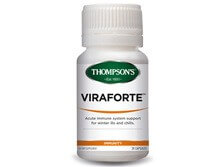 Thompson's ViraForte Capsules 24
Thompson's ViraForte Capsules 24
 Provides a synergistic combination of 
Elderberry, Vitamin C and Zinc 
– a powerful combination of three scientifically supported ingredientsProvides acute immune system support for winter ills and chills 
Benefits
- Reduces the severity and duration of winter ills and chills- Combines zinc, vitamin C and elderberry which possess potent antioxidant activity to help maintain healthy, normal immune function- A powerful antioxidant 
Suitable for
- People who suffer from or are prone to winter ills and chills- Individuals with the first signs of winter ills and chills- Individuals affected by the symtoms of winter ills and chills- Individuals prone to winter ills and chills while travelling
Active Ingredients:Each capsule contains:Fruit juice powder equiv. to fresh fruit:
- Sambucus nigra (Elderberry) 2.3g
Ascorbic acid (vitamin C) 120mg
Zinc gluconate (equiv. to zinc 3.75mg) 26.22mg No Added Gluten, lactose, nuts, shell fish, sugar, fish, dairy, egg, sesame seed, soy, artificial colours, artificial preservatives and artificial flavours. Suitable for vegetarian and vegan use. 
Dosage:Adults – Take two capsules twice daily or as professionally advised (Provides a six day supply of ViraForte for acute response to winter ills and chills). 
Warnings:
WARNING: Contains zinc which may be dangerous if taken in large amounts or for a long period
Not to be used in children under two years of age without medical advice
If symptoms persist consult your healthcare professional
Use only as directed and always read the label
Vitamin supplements should not replace a balanced diet
Store below 30°C in a dry place.
Keep out of reach of children.