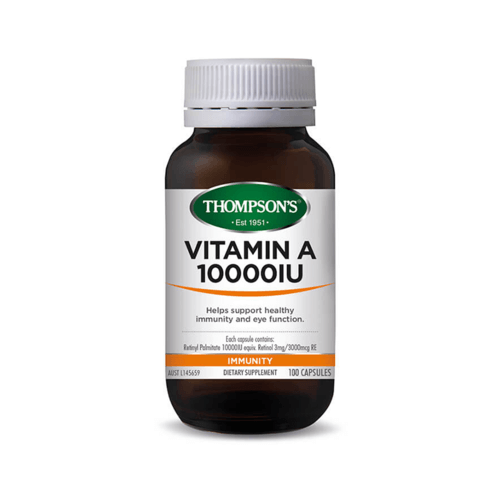 Thompson's Vitamin A 10,000IU Capsules 100
Thompson's Vitamin A 10,000IU Capsules 100
 Important supplement for the maintenance of skin integrityCommonly used to assist in the maintenance of healthy vision 
Benefits
- Helps to support healthy eye function and vision, in particular visual adaptation to darkness- Assists to maintain a healthy immune system- Promotes healthy skin and supports skin repair- Aids to support the health of the mucous membranes, in particular the respiratory tract- Helps to support the production of red blood cells- Aids in maintaining or improving general wellbeing 
Suitable for
- Individuals prone to winter ills and chills- People who are at risk of Vitamin A deficiency and seek a daily supplement- Those looking to support a healthy immune system 
Active Ingredients:Retinyl palmitate (vitamin A) 10000 IU- equiv. Retinol 3000 mcg No Added Corn, dairy, egg, gluten, lactose, nuts, shellfish, sugar, fish, sesame seed, artificial colouring and flavouring 
Dosage:Adults – Take one capsule daily (with food), or as professionally advised. 
Warnings:
Vitamin supplements should not replace a balanced diet.
Use only as directed and always read the label
If you are pregnant, or considering becoming pregnant, do not take vitamin A supplements without consulting your healthcare professional.
The recommended daily amount of vitamin A from all sources is 700mcg retinol equivalents for women and 900mcg retinol equivalents for men. When taken in excess of 3000mcg retinol equivalents, vitamin A can cause birth defects.
Concomitant use of vitamin A supplements and isotretinoin may lead to an increased risk of toxicity. Use of lipid lowering drugs (eg cholestyramine, colestipol) may reduce levels of vitamin A in the body. Supplements containing vitamin A may be beneficial.
Research has pointed out a connection between relatively low levels of pre-formed vitamin A and possible birth defects.
To avoid any potential problems with Vitamin A during pregnancy use its water soluble precursor, beta-carotene.
Toxicity can occur in adults who take in excess of 50,000iu's daily for several years.
Use with caution in individuals with liver damage, cirrhosis or hepatitis.
Store below 30°C in a dry place.
Keep out of reach of children.