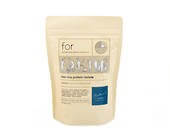 Raw Rice Protein Isolate Natural 510g
For Life Raw Rice Protein Isolate
, available for wholesale, is extracted from sprouted wholegrain brown rice using an environmentally friendly process without use of hexane.
It is easily digestible with a neutral taste and smooth texture, providing an excellent source of clean and sustainable vegan protein.
Protein is an essential nutrient for muscle building, immunity enhancement, bone strength, weight control and for overall vitality.
Full range of amino acid profile
18% BCAA
Excellent digestibility
Raw and 100% Natural
Sustainable Green Food
Vegan-friendly
Gluten, soy, dairy and GMO-free
Use: 
Can be added to smoothies, shakes, ice cream, yogurt, breakfast cereals, soups or baking.
Ingredients: 
Organic Rice Protein Isolate, Flaxseed Fibre
Made in Australia from locate and imported ingredients.
Store in a cool dry place away from direct sunlight. Seal tightly once opened and consume within a month.