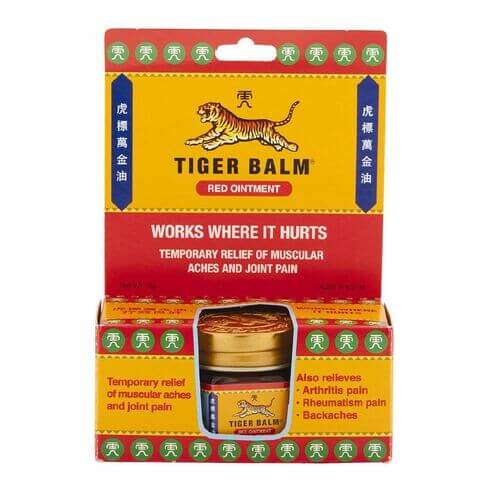 Tiger Balm Red 18g
Tiger Balm is a most versatile pain relieving ointment. It is an external preparation for the relief of bodily aches and pains of muscle and joints due to simple backache, arthritis, strains and sprains. It is also effective in relieving headaches due to tension, itching due to mosquito bites, and flatulence.
Usage:
Rub well on affected parts as required for pain relief.
Ingredients:
Red-Extra Strength: Camphor 11%, Dementholised Mint Oil 6%, Cassia Oil 5%, Cajuput Oil 7%, Menthol 10%, Clove Oil 5%.
Cautions:
Tiger Balm is not to be taken orally.
Do not Tiger Balm on infants under 12 months of age unless on the advice of a physician.
Avoid contact with eyes.
Store Tiger Balm below 30°C/85°F.
If symptoms persist, come into the health shop for a chat or phone and make an appointment and see me as a naturopath in my clinic.
Phone: 094264455