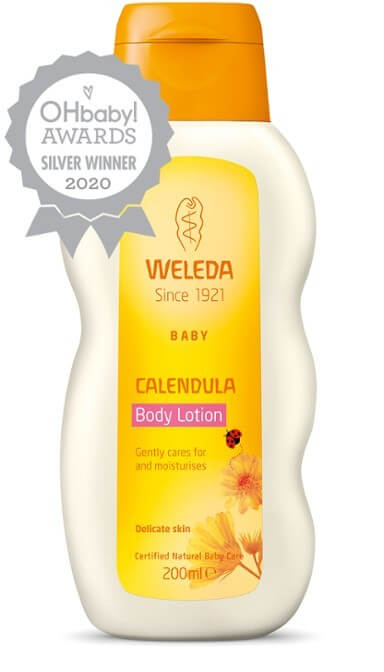 Calendula Baby Body Lotion 200ml
Mild moisturising and calming lotion for delicate skin
Keep baby's skin velvety-soft and support its natural functions with organic calendula extract. Weleda baby care – made with 50 years of know-how.
Description:
Gently care for delicate skin with this light baby lotion. A mild and light milk with caring organic almond and sesame oils and soothing extracts of organic calendula and chamomile. Enriched with perfectly compatible lipids in a lotion which supports newly developing skin in its natural protective job. Baby's skin is left velvety-soft and smelling of nothing but baby, making everyone smile!
Benefits:
Moisturising natural ingredients, mild formula and delicate fragrance especially meant for babies and infants. Absorbed quickly, leaves skin smooth and calmed. Skin-compatible ingredients, supports skin's natural functions.
Dermatologically proven very skin-friendly, even on sensitive skin, also suitable for adult sensitive skin.
Calendula Officinalis Flower Extract
Calendula blossoms have a light- to dark-orange colour and are typical of the Calendula flower. They contain various carotenoids, flavonoids and saponins. Calendula Officinalis Flower Extracts have smoothing properties and support the regeneration of the skin.
Sesame Seed Oil
Sesamum Indicum Seed Oil Sesame Seed Oil works as a perfect massage oil and is used for the care of wan, dry and mature skin but it is also used as a hair conditioning product. It has a great antioxidative effect, skin caring properties and is an ideal carrier oil for active agents. It comprises of a high content of unsaturated fatty oils, such as oil and linolenic acid, as well as phytosterols and Vitamin E (esp. gamma-tocopherol).
How to use:
After a bath, apply the lotion all over the body and rub in gently.