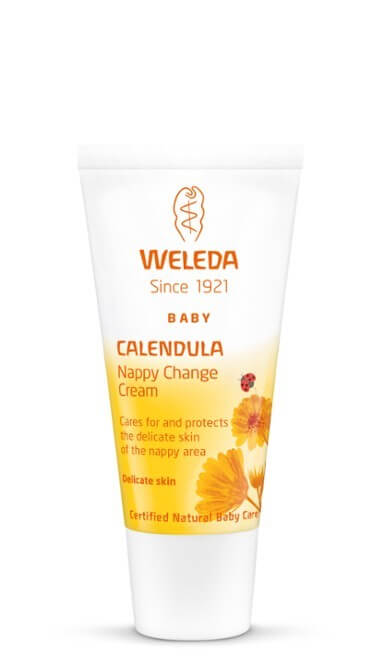 Calendula Nappy Change Cream 30ml
Handy size. Protection from soreness on delicate skin
Protect baby's most sensitive area with the natural support of organic calendula. Soothes irritated skin and reduces redness from day one.
Description:
Organic calendula (marigold), has an exceptional property used in our Calendula Baby Care products. It's a natural anti-inflammatory, so in hard-working Nappy Change Cream we take calendula and chamomile extracts and blend with sweet almond and sesame oil, making a rich cream to reduce redness and gently care for the nappy area. Skin-friendly lanolin and zinc oxide provide a barrier against damp. Midwives agree we've been offering an exceptional product for 30 years!
Benefits:
With its carefully selected formulation of beneficial ingredients, this rich cream cares for delicate baby skin in the nappy area. Calms irritated skin and reduces redness, supports skin regeneration. Protects against dampness. Skin friendly lanolin and zinc oxide provide a protective barrier against excessive moisture. Organic almond oil and precious organic calendula and chamomile extracts provide gentle care and soothe the skin. A deep-nourishing and protective barrier cream.
100% natural. Free from synthetic preservatives, fragrances, colourants or raw materials derived from mineral oils. Dermatologically tested highly skin-friendly even for sensitive skin.
Calendula Officinalis Flower Extract
Calendula blossoms have a light- to dark-orange colour and are typical of the Calendula flower. They contain various carotenoids, flavonoids and saponins. Calendula Officinalis Flower Extracts have smoothing properties and support the regeneration of the skin.
Sweet Almond Oil
Prunus Amygdalus Dulcis Oil The fine and light Sweet Almond Oil is very skin-friendly and ideal for sensitive, rough, flaky and dry skin. Sweet Almond Oil is very suitable for the care of infants and small children. It is characterised by a high content of unsaturated fatty oils, such as oil and linolenic acid.
How to use:
Apply a small amount, as a barrier cream, after changing and cleansing.