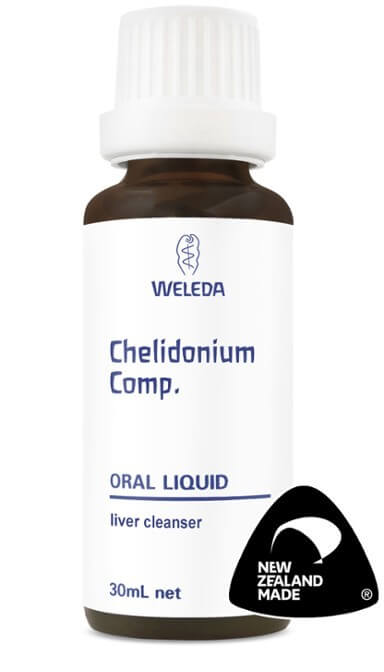 Chelidonium Comp. 30ml
Helps cleanse and remove toxins from liver and digestive system. Also increases waste elimination and improves skin conditions eg. eczema.
Description:
Liver cleanser to remove toxins from liver and digestive system. Natural. Made in New Zealand.
Ingredients:
Each 1g (approx. 15 drops) cont: Tinct., equiv. fresh juice: Chelidonium majus, rhiz. 33.3mg; Onopordon acanthium, leaf 50mg; Taraxacum officinalis, whole plant 100mg; Urtica dioica, whole plant 50mg; & Digestodoron 300mg (cont.: Digest., equiv. fresh leaf juice: Dryopteris filix-mas 12mg; Polypodium vulgare 3mg; Pteridium aquilinum 12mg; Salix alba 6mg; Salix purpurea 6mg; Salix viminalis 12mg; Salix vitellina 6mg; Scolopendrium vulgare 3mg); Decoct., equiv. dry: Silybum marianum, fruit 40mg; in water/ethanol base.
How to use:
Take 5 drops (children under 7 years), 10 drops (children 7 - 14 years), or 15 drops (adults). Take three times daily at least 15 minutes before meals, for six weeks. Stop for two weeks, then repeat if necessary, or as directed. Shake the bottle - naturally cloudy.