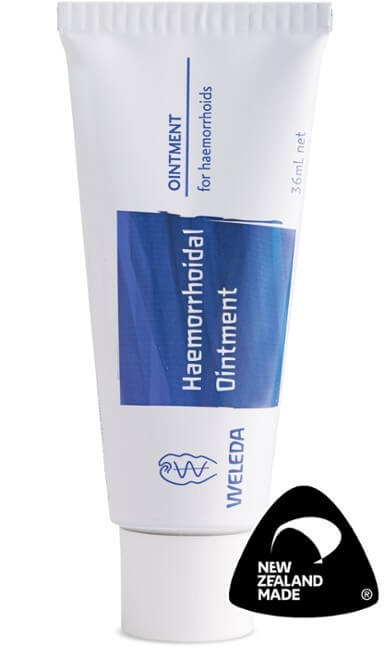 Haemorrhoidal Ointment 36ml
Description:
A natural ointment to ease the pain and swelling of external haemorrhoids (piles) and fissures. Weleda also recommends the use of Achillea Comp. oral drops. Natural, made in New Zealand.
Ingredients:

Each 1g contains: Tincture, equiv. fresh juice: Borago officinalis, leaf 20mg; Calendula officinalis, flower 50mg; Decoction, equiv. dry: Quercus robur, bark 5mg; Extract, equiv. dry: Aesculus hippocastanum, bark 20mg; Hamamelis virginiana, leaf 50mg; Oil extract, equiv. dry: Calendula officinalis, flower 19.6mg; Equisetum arvense, herb 9.5mg; Rosmarinus officinalis, leaf 18mg; and Zinc oxide 50mg; and essential oils: Lavender Oil 4mg; Pumilio Pine Oil 5mg; Rosemary Oil 20mg; in a base containing natural vegetable oils and beeswax.
How to use:
Apply a small amount once daily in the evening. Can be used more often if needed. May sting initially if used on open skin. For external use only.