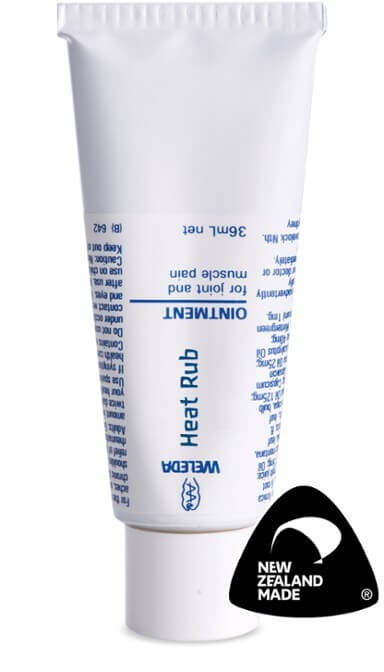 Heat Rub 36ml
For joint and muscle pain
A strong, long acting herbal product for the relief of joint and muscle aches. Temporary relief of the of the pain of arthritis and rheumatism, and any other conditions requiring heat.
Description:
Relief from joint and muscle pain, joint aches, old sports injuries, chronic back pain, frozen shoulder. Also offers temporary relief of the pain of arthritis and rheumatism. All natural product, made in New Zealand.
Ingredients:

Each 1g contains: Tincture, equiv. dry: Arnica montana, flower 6.8mg; Arnica montana, root 700mcg; Decoction, equiv. fresh juice: Symphytum officinale, root 15mg; Oil extract, equiv. dry: Arnica montana, flower 4.7mg; Betula pendula, leaf 4.7mg; Matricaria recutita, flower 4.7mg; Rosmarinus officinalis, leaf 4.7mg; Juice of: Allium cepa, bulb (Onion juice) 25mg; and essential oils: Cajuput Oil 125mg; Camphor Crystals 40mg; Capsicum fruit oleoresin 10mg (Capsaicin content 500mcg); Cassia Oil 25mg; Clove Bud Oil 20mg; Eucalyptus Oil 25mg; Menthol Crystals 40mg; Turpentine Oil 100mg; Wintergreen Oil 25mg; and Copper (Cuprum met.) 1mg; in a base containing natural vegetable oils and beeswax.
How to use:
Adults: Massage a small amount into the affected area twice a day. Use sparingly until used to the heat. Contains extract of hot pepper. Do not use on broken skin or under an occlusive dressing. Wash hands after use. Not recommended for children.