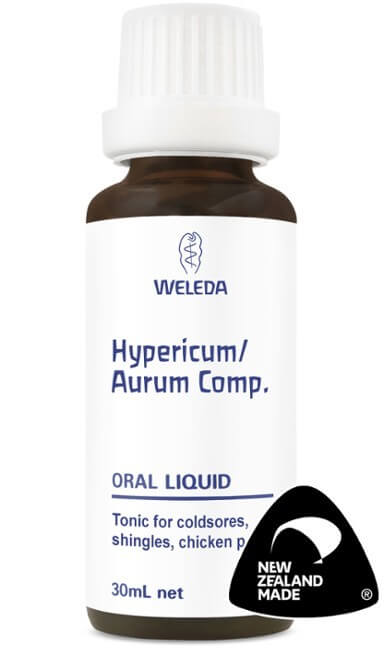 Hypericum/Aurum Comp. 30ml
Strengthening tonic against viral infections of the nerves eg. cold sores, shingles, chicken pox and herpes infection
Description:
Strengthening tonic against viral infections of the nerves. For best results use with Weleda Hypercal Lotion or Cream. Natural, made in New Zealand. Homoeopathic Medicine.
Ingredients:

Contains equal parts of: Aurum met. praep. 10x; Ferrum sidereum 10x; Hypericum, herb 6x; in water/ethanol base.
How to use:
Take 5 drops (under 7 years), 10 drops (7-14 years) or 15 drops (adult) three times daily, at least 15 minutes before meals, for six weeks. Stop for two weeks, then repeat if necessary. In acute cases, take every two hours.