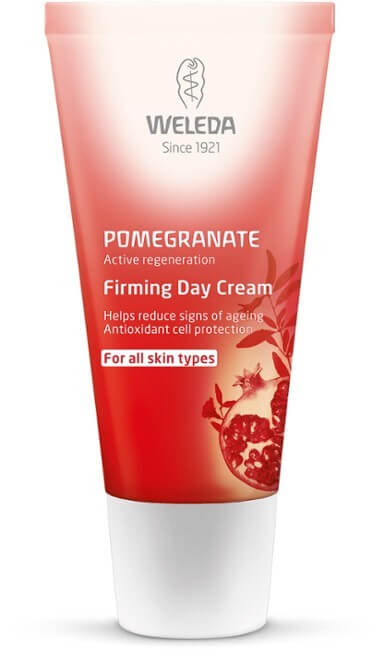 Pomegranate Firming Day Cream 30ml
Helps reduce signs of ageing with antioxidant cell protection
Your daytime companion for radiant skin, an extra nourishing cream for mature skin, with pomegranate seed oil to improve the skin's firmness and elasticity. Wrinkles are reduced and skin feels smoother.
The pomegranate, punica granatum, although from the outside it looks brittle and dry, conceals a surprisingly rich and plump interior with countless seeds, each cushioned in juicy red flesh and resembling small, jewel-like berries.
Description
Weleda cherishes the ancient wisdom which held pomegranate as a symbol of life-force, vitality and longevity. In our Firming Day Cream, precious organic pomegranate oil is carefully blended with golden millet, argan and macadamia oils to create a light cream which nourishes and regenerates during natural ageing.
Benefits
Antioxidant – protects from free radicals. Regenerating, with proven effect on skin bounce, tone and bloom. Wrinkles are reduced and skin feels smoother. Suitable for use under make-up.
Pomegranate Seed Oil (Punica Granatum Seed Oil) The yellow to reddish coloured, relatively thick Pomegranate Seed Oil is one of the active agent oils and is rich in the rare punicic acid (an unsaturated fatty acid). This valuable vegetable oil also has antioxidant properties that improves the regeneration of the skin and is therefore considered to be an outstanding skin care product for dry, ageing and stressed skin.

Apply to face, neck and decolletage every morning after cleansing and toning. Avoid the eye area.