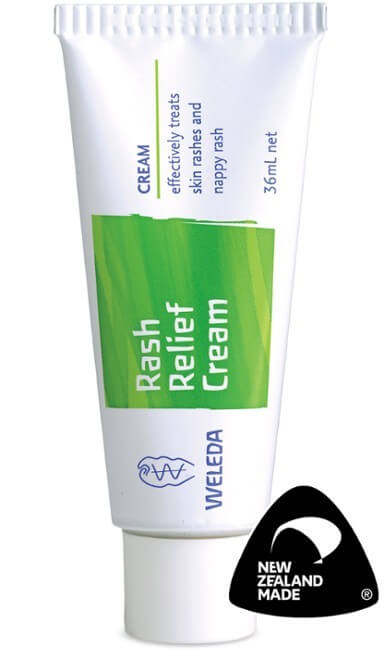 Rash Relief Cream 36ml
Description:
A traditional, herbal product for the effective treatment of skin rashes including nappy rash. Helps to soothe, protect and heal delicate skin. Natural, made in New Zealand.
Ingredients:
Each 1g contains: Tincture equiv. fresh juice: Echinacea purpurea, whole flowering plant 11.7mg; Infusion, equiv. dry: Arnica montana, flower 300mcg; Calendula officinalis, flower 6.1mg; Urtica urens (Stinging Nettle), herb 5.8mg; Oil extract, equiv. fresh: Hypericum perforatum (St. John's Wort), flower 10mg; Oil extract, equiv. dry: Arnica montana, flower 4.4mg; Calendula officinalis, flower 15.3mg; Matricaria chamomilla (Chamomile), flower 8.8mg; Rosmarinus officinalis, leaf 8.8mg; and Aloe vera, dry leaf juice 1mg equiv. fresh leaf juice 200mg; Hamamelis water 10mg; Zinc oxide 100mg; and essential oils: Lavender Oil 4.8mg; Orange Oil 1.5mg; Peru Balsam Oil 3mg; Petit Grain (Paraguay) Oil 500mcg; Rosemary Oil 1mg; Sage Oil (Spanish) 500mcg; Ylang Ylang Oil 1.7mg; in a base containing natural vegetable oils and beeswax.
 
How to use:
Adults/children: gently apply a small amount to the affected area twice a day. For nappy rash, apply liberally at each change.