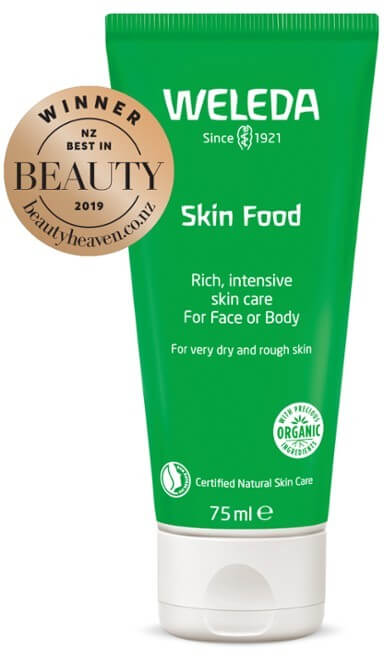 Skin Food 75ml
The ultimate natural moisturiser for dry, rough skin everywhere
If there's just one thing you need to take to a desert island, it's this little green magic tube. Skin Food is a saviour of dry, rough skin on faces, elbows, hands and feet – wherever you take a lot out of your skin, let Skin Food put it back.
Description:
Our best beauty secret – now it's your turn to discover the essence of soft skin. Deeply nourishing and intensely hydrating whole-body moisturiser that restores and protects dry and rough skin. This award-winning formula has been around since 1926. With extracts of calendula, chamomile and gentle viola tricolor, in a rich, thick base of oils and beeswax, Skin Food loves your skin back to its best.
Benefits:
Increases skin hydration, firmness, smoothness and cell regeneration significantly. Dermatologically tested. Free from synthetic fragrances, colourants, preservatives or raw materials from mineral oils.
How to use:
Apply a small amount to dry or rough skin as needed and massage in until the cream is absorbed. A light, protective film may remain on the skin's surface. To deeply nourish hard working, dry hands, apply the cream liberally, cover with cotton gloves and leave on overnight.