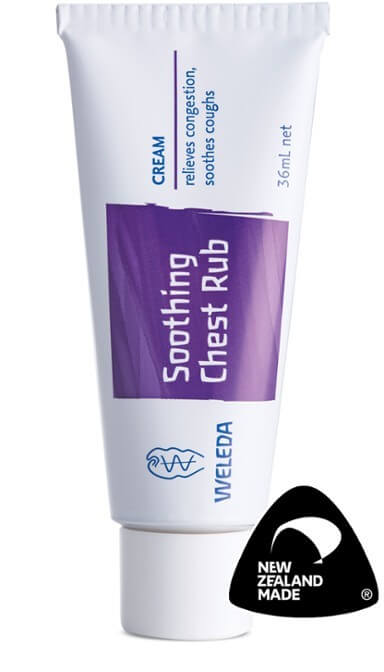 Soothing Chest Rub 36ml
Relieves congestion, soothes coughs
A warming, soothing herbal cream containing camphor and pure essential oils of eucalyptus and rosemary to soothe coughs and help relieve congestion.
Description:
Helps to relieve congestion and coughs. Warming and soothing product containing natural ingredients to help in times of illness.
Natural, made in New Zealand.
Ingredients:
Each 1g contains: Infusion, equiv. dry: Hypericum perforatum, flowering herb 1.9mg; Plantago lanceolata, leaf 5.7mg; Oil extract, equiv. fresh: Hypericum perforatum, flower 10mg; Oil extract equiv. dry: Plantago lanceolata, leaf 20mg; Camphor 20mg; and essential oils: Eucalyptus Oil 10mg; Rosemary Oil 10mg; in a base containing natural vegetable oils and beeswax.
How to use:
Rub a small amount (5mm - 1cm 3-14years) or 1 - 2cm adults) into the chest and upper back twice a day. For children under 3 and those with a sensitive skin, use 2 - 3mm diluted with a small amount of vegetable oil. Do not use in the nose.