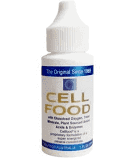 Cellfood
Cell Food
Since  1969 or since man walked on the moon 50 years ago, Cellfood has been changing lives in more than 94 countries. Experience a healthy boost with CELLFOOD, the world's #1 oxygen and nutrient formula.
90% of cellular energy comes from oxygen and 10% from nutrients, so here is your daily change to charge up.
Cellfood                                            30ml                                                  Wellness Now
Adults: When you first start to take Cellfood, use 5 drops twice daily before meals; then increase gradually to 8 drops in 240 mL of purified or distilled water, or juice, 3 times per day. Best taken between meals (at least 15 min. before or 1 hour after). May mix 1 day's amount in water bottle and sip throughout day. Each 30 mL bottle of CELLFOOD contains 90 servings of 8 drops each, or 720 drops.
What's in CELLFOOD Original Concentrate?
78 Ionic Colloidal Trace Minerals
CELLFOOD contains all natural and perfectly preserved plant sourced minerals from pristine southern oceans and fossilised organics.
17 Key Amino Acids
Amino acids are the building blocks of proteins and essential in the human body.
Metabolisation Versus Just Absorption
It's about metabolism or converting nutrients in the cells into energy that is most important. Oxygen is also a necessary nutrient (90% of cellular energy comes from oxygen and 10% from nutrients). During metabolism, the nutrients combust or "burn up" in the cell.
34 Plant Based Enzymes
Enzymes act within the body.
Electrolytes
Electrolytes support the healthy electrical integrity of the body's natural colloidal systems, and your Chakras.
All Natural and Safe
These nutrients from Cellfood are directly supplied to your body cell, resulting in greater assimilation of other Vitamins, minerals and nutrients from your diet.
Your body functions more cleanly and sufficient with the result of an better energy boost throughout the day.
Oxygen is nature's great Detox-ifier, enabling the body to eliminate better waste materials,
supports your Immune System,
facilitates rapid tissue repair and rebuild of tissues e.g. veins, bruises
and supports an overall healthful functioning even in the Elderly.
If you add a drop to your cosmetics your find Cellfood
Renews Skin texture and youthful complexion,
Supports the healing of problem skin e.g. rashes, skin damage,
Soften and smooths dry , raff skin,
Refines oily skin,
Reduce blemishes, sun spots, uneven texture,
Decrease fine lines around eye and mouth and wrinkles, stretch marks.