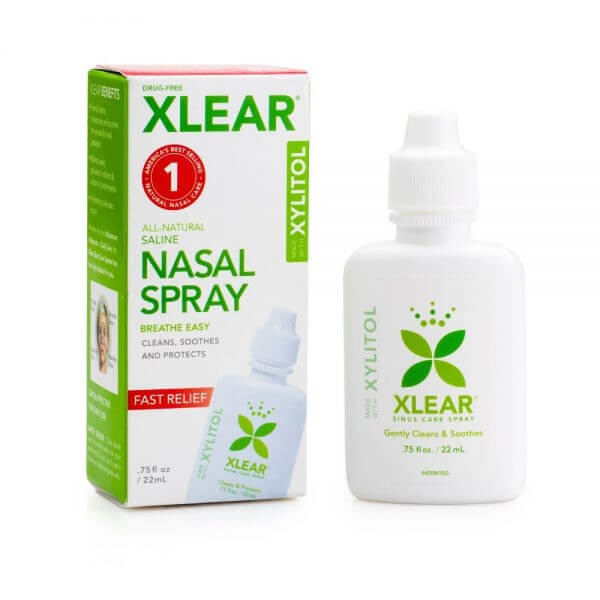 Xylitol Nasal Spray 22ml (Xlear)
The nose and sinuses are designed to act as filters and form the first line of defense against airborne contaminants such as dust and other irritants.  Nasal and sinus cleansing has been used for millennia to keep these filters working as they should. Our nasal spray is built on that concept.
The Xlear Sinus Care system with xylitol combines the wisdom of the past with modern research on the benefits of using xylitol in a nasal application that results in a fantastic nasal spray for allergies and other ailments.  The result is a professionally Physician-developed system that is easy to use and can be tailored to meet any need and is available OTC (over the counter).  Whether you need daily care, moderate care, or maximum care, the Xlear Sinus Care system has the right option for you.
Xlear's secret is the patented, natural saline spray containing xylitol—an ingredient which cleanses and moisturises.
Normal saline nasal sprays can dry out the nasal passage, actually leaving it more irritated and susceptible to external contaminants. But with the addition of xylitol, Xlear Saline Nasal Spray with xylitol will moisturise and soothe your sinus and nasal passages.
Xylitol also has cleansing benefits; it almost acts like soap for your nose. The industry-leading formula alleviates congestion and also prevents bacteria and other pollutants from sticking to nasal tissues.
Now you can naturally promote upper respiratory health while alleviating congestion with Xlear Saline Nasal Spray with xylitol.
Patented solution with Xylitol reduces tissue inflammation and naturally opens airways.
Travel-friendly 22mL bottle delivers a gentle mist when squeezed or can also be dispensed in drops.
Hypertonic solution is more effective than saline alone at rinsing, cleansing, and moisturising.
Non-GMO Project ingredients guarantee the products you put in your body are natural.
Drug-free formula can be used as often as needed without the risk of addiction or rebound.

Directions:
1. Clear the nasal passageway by gently blowing your nose before using Xlear Saline Nasal Spray with Xylitol.
2. Insert nozzle into nostril and squeeze bottle while breathing in through your nose. Remove the nozzle from nostril before allowing bottle to re-inflate. Spray 2-4 times in each nostril.
3. Clean nozzle after use and replace the safety cap.
For best results, use at least twice daily; morning and night. Natural, drug-free formula is non-addictive and is safe to use as often as needed for optimal health to cleanse sinuses and nasal passages.
Made in the USA.