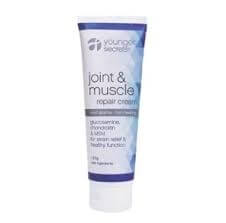 Joint & Muscle Repair Cream 125g
Younger Secrets Joint and Muscle Repair Cream
is an effective formulation to help with sore muscles, stressed joints, injury, sports activity, growing pains or osteoarthritis.
Clinical trials have shown that topical Glucosamine, Chondroitin and MSM can help relieve joint and muscle pain and promote the formation and repair of cartilage. This high quality cream assists in..
Promoting joint mobility and flexibility
Easing joint stiffness and pain
Protecting and rebuilding cartilage
Joint and muscle strain relief
Younger Secrets Joint and Muscle Repair Cream provides natural ingredients, NO steroids and is...
Suitable and Safe for all ages
Mild in Aroma, Non Heating
Easy to Massage and absorbs well
Convenient in a non-contaminating tube
Directions:  Massage well into the skin until the cream completely absorbs, 2-4 times per day as needed
Active Ingredients:  Glucosamine, Chondroitin, Methyl Sulfonyl Methane (MSM sulphur) plus essential oils of, sweet almond, white tumeric, zingiber ginger, cinnamon, and menthol.